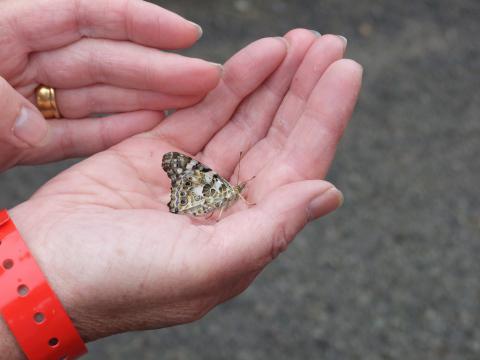 This is from our service at Greenbelt 2012. We were looking to challenge our consumer culture; looking for nourishment; looking towards transformation. It was a family service (it's the only kind we know!) that also included a reading of the Very Hungry Caterpillar, sharing discussions, and both origami and real butterflies.
The Very Hungry Consumer
In the light of the moon a little egg lay on a leaf. Then one day, out popped a small and very hungry consumer
On Monday she consumed one pre-packaged fast-food ready meal washed down with a real-thing life-max energy drink... but she was still hungry

Lord have mercy

On Tuesday she consumed 2 new sweat-shop fast-fashion child labour produced items of clothing... but she was still hungry

Lord have mercy

On Wednesday she consumed 3 new sleek iGadgets to help her share and engage with her virtual-friends while the real people who manufactured the gadget lined up on the rooftops, ready to jump because of conditions in the factory... but she was still hungry

Lord have mercy

On Thursday she consumed 4 corporate sponsored events designed to link healthy lifestyles with brands rooted in environmental destruction and the commodification of human lives... but she was still hungry

Lord have mercy

On Friday she consumed 5 efficient cheap one-click deliveries from corporate companies just off-shore enough not to contribute to our schools, health, local communities or economies... but she was still hungry

Lord have mercy

On Saturday she consumed:

one average day's 3,500 marketing messages
one average day's 150 litres of water
one degrading reality TV show
one BOGOF offer at a giant supermarket
one confusing insurance product sold on fear
one hour of 24hr repeating news
one plastic throwaway toy
one celebrity scandal magazine
one flight to find sunshine because she deserved a break,
… and that night she felt sick to her stomach.

Lord have mercy on our soul

The next day was Sunday. She looked for something that would make her feel better; something that would nourish her pending transformation.
We can probably all recognise something in this story of overconsumption. What do you consume that you know does you no good; does the Earth no good; does others no good? What's your green leaf? How would you feel when you eat it? Perhaps you found something nourishing at Greenbelt? Please feel free to share your comments below.
Thursday, August 30, 2012 - 8:53pm